Our downtown store is temporarily closed due to the "Safer at Home" emergency order in Los Angeles. We are able to drop-ship a limited selection of products from warehouses in other states. Some of these products must be ordered in case quantities. We are not offering curbside pickup at this time. There is a $50 order minimum.
Mixed Media Mega Set
This set includes everything an artist needs to create dynamic, mixed media artwork: 165 pieces housed in an attractive wooden box with metal clasps and a sturdy handle. The box folds outwards to reveal an extensive variety of supplies for drawing, sketching, painting and pastels. The set includes 30 oil pastels, 28 colored pencils, 24 watercolor cakes, 16 6ml watercolor paints, 16 6ml acrylic paints, 16 watercolor pencils, ten 9" x 12" activity sheets, eight sketching pencils, three charcoal pencils, three plastic palettes, two golden synthetic brushes, two natural hair brushes, two tortillons, one blending stump, one plastic palette knife, one 2-hole metal sharpener, one vinyl eraser and one kneaded eraser.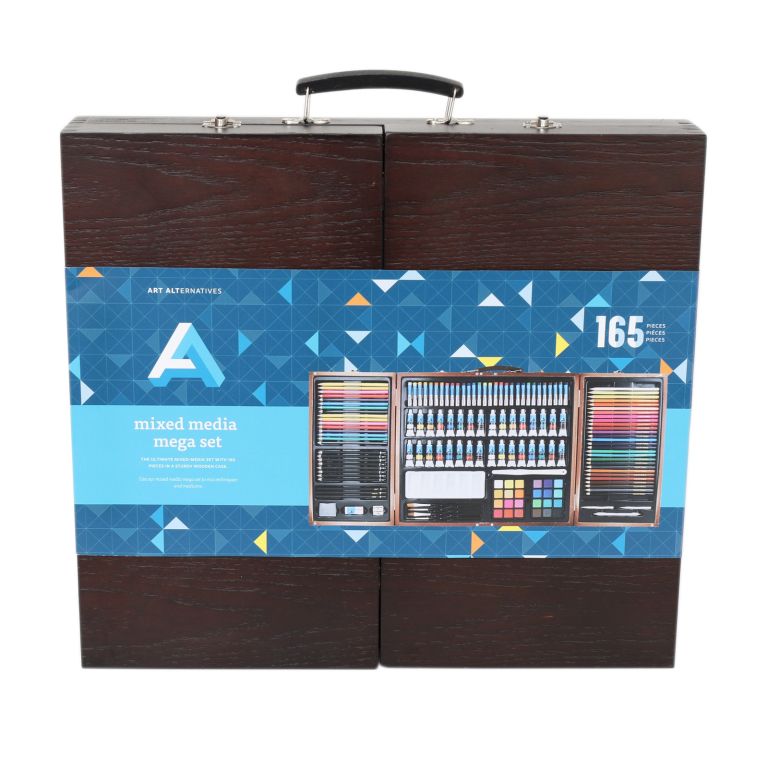 Availability alert! Items that say "Maybe" may not be in stock, this only indicates that the item is usually stocked in the warehouse. Your payment will be refunded for any items we are unable to have shipped.
| Item No. | Description | List | Sale | Availability | In Stock | |
| --- | --- | --- | --- | --- | --- | --- |
| AAAS0004 | 166-Piece Set | $109.95 | $87.96 | Drop-ship only | Maybe | |