Our downtown store is temporarily closed to the public.
We are offering
curbside pickup
, local bike delivery, and nationwide shipping.
Chalk Spray Paint
Montana Chalk Sprays feature the look and feel of a rough chalk effect. These environmentally friendly chalk-based pigment sprays are ideal for temporary outdoor markings as well as for indoor studio artwork. This is a great medium for events, advertisements, marketing campaigns and outdoor activities. Studio artists will find new possibilities with these colorful deep-matte high-covering chalk pigments. They can be applied on various surfaces such as sidewalks, walls, cardboard and canvas. The chalk markings will last from days, to several weeks, depending on climate and weather conditions. Markings will fade quickly during extended periods of rain and in high-traffic areas. Contents are non-hazardous to plants, and therefore ideally suited for use in the garden and landscaping. The chalk color pigments will wash away faster on non-porous surfaces like glass or metal, but can be finished and sealed with spray varnish to create long lasting permanent effects.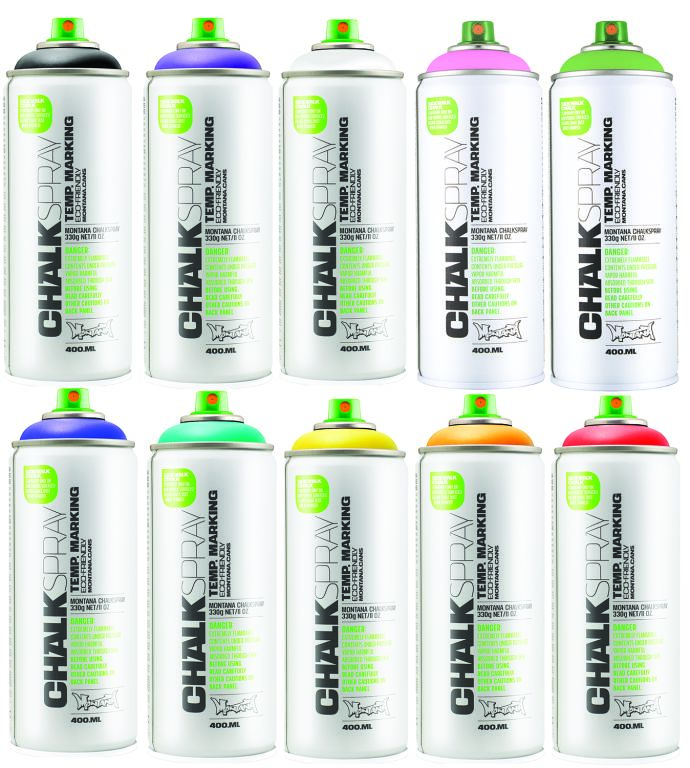 | Item No. | Description | List | Sale | In Stock | |
| --- | --- | --- | --- | --- | --- |
| MXCH-2010 | Orange | $12.95 | $11.66 | In stock | |
| MXCH-3000 | Red | $12.95 | $11.66 | In stock | |
| MXCH-9000 | Black | $12.95 | $11.66 | In stock | |
| MXCH-9100 | White | $12.95 | $11.66 | In stock | |
| MXCH-1020 | Yellow | $12.95 | $11.66 | Out of stock, special order | |
| MXCH-4050 | Pink | $12.95 | $11.66 | Out of stock, special order | |
| MXCH-4150 | Violet | $12.95 | $11.66 | Out of stock, special order | |
| MXCH-5050 | Blue | $12.95 | $11.66 | Out of stock, special order | |
| MXCH-6050 | Green | $12.95 | $11.66 | Out of stock, special order | |
| MXCH-6120 | Turquoise | $12.95 | $11.66 | Out of stock, special order | |