Our downtown store is temporarily closed to the public.
We are offering
curbside pickup
, local bike delivery, and nationwide shipping.
Erasable Chalk Paint
Water-based, matte finish paint that is fast drying and highly opaque. Developed for use in temporary markings on non-porous surfaces (construction, sports events, film decoration, children's games, temporary decorations, etc.) and situations where an easily removable spray paint is required. Resistant to wear.
Does not leave overspray. The 400ml format incorporates the revolutionary 360-degree valve design, making it comfortable to use and quick to apply. To remove the paint scrub with a damp cloth or pressurized water.
(Does not turn walls or surfaces into a chalkboard!)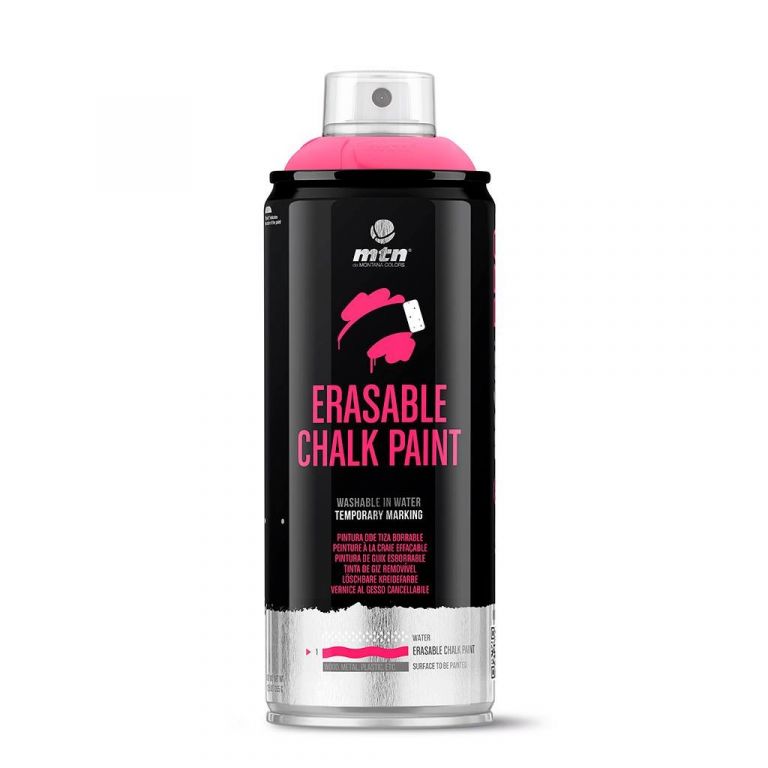 400ml
| Item No. | Description | List | Sale | In Stock | |
| --- | --- | --- | --- | --- | --- |
| MTEX014PC0030 | Electric Blue | $12.95 | $11.66 | Out of stock, special order | |
| MTEX014PC1021 | Light Yellow | $12.95 | $11.66 | Out of stock, special order | |
| MTEX014PC2004 | Orange | $12.95 | $11.66 | Out of stock, special order | |
| MTEX014PC3020 | Light Red | $12.95 | $11.66 | Out of stock, special order | |
| MTEX014PC4010 | Magenta | $12.95 | $11.66 | Out of stock, special order | |
| MTEX014PC6018 | Valley Green | $12.95 | $11.66 | Out of stock, special order | |
| MTEX014PC9010 | White | $12.95 | $11.66 | Out of stock, special order | |
| MTEX014PC9011 | Black | $12.95 | $11.66 | Out of stock, special order | |