We are temporarily closed due to California's "Stay at Home" order. We have also suspended all online ordering while we do some work our online store.
Extra-Fine Watercolors
These watercolors span the color spectrum from the historical to natural earth and quinacridones. Outstanding color strength, extremely vibrant colors and excellent brushing properties make these paints desirable for any watercolor artist. The pigments are procured from every continent except Antarctica, and the paints are manufactured in Seattle, Washington.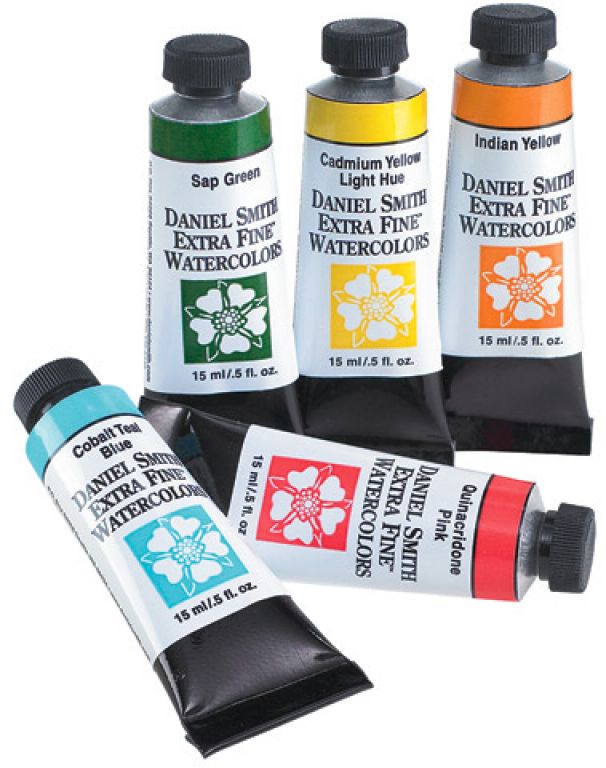 5ml
| Item No. | Description | List | Sale | Availability | |
| --- | --- | --- | --- | --- | --- |
| DJ284610004 | Alizarin Crimson | $9.42 | $5.65 | Special order | |
| DJ284610006 | Aureolin (Cobalt Yellow) | $12.60 | $7.56 | Special order | |
| DJ284610009 | Buff Titanium | $9.42 | $5.65 | Special order | |
| DJ284610010 | Burnt Sienna | $9.42 | $5.65 | Special order | |
| DJ284610011 | Burnt Umber | $9.42 | $5.65 | Special order | |
| DJ284610019 | Carbazole Violet | $11.01 | $6.61 | Special order | |
| DJ284610021 | Cerulean Blue Chromium | $11.01 | $6.61 | Special order | |
| DJ284610023 | Chinese White | $9.42 | $5.65 | Special order | |
| DJ284610025 | Cobalt Blue | $12.60 | $7.56 | Special order | |
| DJ284610028 | Cobalt Teal Blue | $11.01 | $6.61 | Special order | |
| DJ284610030 | Cobalt Violet | $12.60 | $7.56 | Special order | |
| DJ284610034 | French Ultramarine | $11.01 | $6.61 | Special order | |
| DJ284610039 | Hansa Yellow Medium | $11.01 | $6.61 | Special order | |
| DJ284610041 | Hansa Yellow Light | $9.42 | $5.65 | Special order | |
| DJ284610042 | Hooker's Green | $9.42 | $5.65 | Special order | |
| DJ284610043 | Indanthrone Blue | $11.01 | $6.61 | Special order | |
| DJ284610045 | Indian Yellow | $12.60 | $7.56 | Special order | |
| DJ284610046 | Indigo | $9.42 | $5.65 | Special order | |
| DJ284610049 | Lunar Black | $9.42 | $5.65 | Special order | |
| DJ284610051 | Manganese Blue Hue | $9.42 | $5.65 | Special order | |
| DJ284610057 | Moonglow | $11.01 | $6.61 | Special order | |
| DJ284610058 | Naples Yellow | $9.42 | $5.65 | Special order | |
| DJ284610060 | New Gamboge | $9.42 | $5.65 | Special order | |
| DJ284610061 | Nickel Azo Yellow | $11.01 | $6.61 | Special order | |
| DJ284610064 | Organic Vermliion | $11.01 | $6.61 | Special order | |
| DJ284610065 | Payne's Gray | $9.42 | $5.65 | Special order | |
| DJ284610066 | Perinone Orange | $12.60 | $7.56 | Special order | |
| DJ284610077 | Phthalo Blue (Green Shade) | $9.42 | $5.65 | Special order | |
| DJ284610078 | Phthalo Green (Blue Shade) | $9.42 | $5.65 | Special order | |
| DJ284610079 | Phthalo Green (Yellow Shade) | $11.01 | $6.61 | Special order | |
| DJ284610080 | Phthalo Turquoise | $9.42 | $5.65 | Special order | |
| DJ284610082 | Prussian Blue | $9.42 | $5.65 | Special order | |
| DJ284610084 | Pyrrol Red | $12.60 | $7.56 | Special order | |
| DJ284610085 | Pyrrol Scarlet | $12.60 | $7.56 | Special order | |
| DJ284610086 | Quinacridone Burnt Orange | $11.01 | $6.61 | Special order | |
| DJ284610087 | Quinacridone Burnt Scarlet | $11.01 | $6.61 | Special order | |
| DJ284610088 | Quinacridone Coral | $11.01 | $6.61 | Special order | |
| DJ284610089 | Quinacridone Gold | $11.01 | $6.61 | Special order | |
| DJ284610090 | Quinacridone Magenta | $11.01 | $6.61 | Special order | |
| DJ284610091 | Quinacridone Red | $11.01 | $6.61 | Special order | |
| DJ284610092 | Quinacridone Rose | $11.01 | $6.61 | Special order | |
| DJ284610093 | Quinacridone Sienna | $11.01 | $6.61 | Special order | |
| DJ284610094 | Quinacridone Violet | $11.01 | $6.61 | Special order | |
| DJ284610095 | Quinacridone Pink | $11.01 | $6.61 | Special order | |
| DJ284610096 | Raw Sienna | $9.42 | $5.65 | Special order | |
| DJ284610097 | Raw Umber | $9.42 | $5.65 | Special order | |
| DJ284610099 | Rich Green Gold | $11.01 | $6.61 | Special order | |
| DJ284610101 | Rose of Ultramarine | $9.42 | $5.65 | Special order | |
| DJ284610102 | Sap Green | $11.01 | $6.61 | Special order | |
| DJ284610103 | Sepia | $9.42 | $5.65 | Special order | |
| DJ284610105 | Ultramarine Turquoise | $9.42 | $5.65 | Special order | |
| DJ284610106 | Ultramarine Blue | $9.42 | $5.65 | Special order | |
| DJ284610108 | Ultramarine Violet | $9.42 | $5.65 | Special order | |
| DJ284610109 | Undersea Green | $9.42 | $5.65 | Special order | |
| DJ284610112 | Viridian | $11.01 | $6.61 | Special order | |
| DJ284610114 | Yellow Ochre | $9.42 | $5.65 | Special order | |
| DJ284610118 | Titanium White | $9.42 | $5.65 | Special order | |
| DJ284610119 | Phthalo Blue (Red Shade) | $9.42 | $5.65 | Special order | |
| DJ284610126 | Pyrrol Orange | $11.01 | $6.61 | Special order | |
| DJ284610139 | Green Gold | $11.01 | $6.61 | Special order | |
| DJ284610142 | Cascade Green | $9.42 | $5.65 | Special order | |
| DJ284610152 | Quinacridone Deep Gold | $11.01 | $6.61 | Special order | |
| DJ284610154 | Bismuth Vanadate Yellow | $11.01 | $6.61 | Special order | |
| DJ284610156 | Hematite Genuine | $12.60 | $7.56 | Special order | |
| DJ284610163 | Amazonite Genuine | $11.01 | $6.61 | Special order | |
| DJ284610165 | Lemon Yellow | $9.42 | $5.65 | Special order | |
| DJ284610167 | Rhodonite Genuine | $11.01 | $6.61 | Special order | |
| DJ284610175 | Deep Sap Green | $11.01 | $6.61 | Special order | |
| DJ284610179 | Sodalite Genuine | $14.18 | $8.51 | Special order | |
| DJ284610183 | Lunar Blue | $11.01 | $6.61 | Special order | |
| DJ284610184 | Cadmium Yellow Medium Hue | $12.60 | $7.56 | Special order | |
| DJ284610185 | Permanent Alizarin Crimson | $11.01 | $6.61 | Special order | |
| DJ284610187 | Transparent Pyrrol Orange | $11.01 | $6.61 | Special order | |
| DJ284610188 | Shadow Violet | $11.01 | $6.61 | Special order | |
| DJ284610190 | Serpentine Genuine | $14.18 | $8.51 | Special order | |
| DJ284610191 | Piemontite Genuine | $14.18 | $8.51 | Special order | |
| DJ284610192 | Cadmium Yellow Light Hue | $12.60 | $7.56 | Special order | |
| DJ284610193 | Bloodstone Genuine | $11.01 | $6.61 | Special order | |
| DJ284610194 | Perylene Green | $11.01 | $6.61 | Special order | |
| DJ284610195 | Jadeite Genuine | $14.18 | $8.51 | Special order | |
| DJ284610197 | Green Apatite Genuine | $12.60 | $7.56 | Special order | |
| DJ284610198 | Opera Pink | $9.42 | $5.65 | Special order | |
| DJ284610203 | Amethyst Genuine | $14.18 | $8.51 | Special order | |
| DJ284610206 | Cerulean Blue | $12.60 | $7.56 | Special order | |
| DJ284610211 | Mayan Blue Genuine | $12.60 | $7.56 | Special order | |
| DJ284610222 | Cadmium Red Medium Hue | $12.60 | $7.56 | Special order | |
| DJ284610225 | Quinacridone Purple | $11.01 | $6.61 | Special order | |
| DJ284610229 | Neutral Tint | $9.42 | $5.65 | Special order | |
15ml
| Item No. | Description | List | Sale | Availability | |
| --- | --- | --- | --- | --- | --- |
| DJ284600003 | Lamp Black | $17.23 | $10.34 | In stock | |
| DJ284600004 | Alizarin Crimson | $17.23 | $10.34 | In stock | |
| DJ284600005 | Anthraquinoid Red | $21.38 | $12.83 | In stock | |
| DJ284600006 | Aureolin (Cobalt Yellow) | $23.07 | $13.84 | In stock | |
| DJ284600008 | Bordeaux | $21.38 | $12.83 | In stock | |
| DJ284600009 | Buff Titanium | $17.23 | $10.34 | In stock | |
| DJ284600010 | Burnt Sienna | $17.23 | $10.34 | In stock | |
| DJ284600011 | Burnt Umber | $17.23 | $10.34 | In stock | |
| DJ284600019 | Carbazole Violet | $21.38 | $12.83 | In stock | |
| DJ284600020 | Carmine | $21.38 | $12.83 | In stock | |
| DJ284600021 | Cerulean Blue Chrome | $21.38 | $12.83 | In stock | |
| DJ284600023 | Chinese White | $17.23 | $10.34 | In stock | |
| DJ284600024 | Chromium Oxide Green | $17.23 | $10.34 | In stock | |
| DJ284600025 | Cobalt Blue | $23.07 | $13.84 | In stock | |
| DJ284600026 | Cobalt Green | $23.07 | $13.84 | In stock | |
| DJ284600027 | Cobalt Green Pale | $23.07 | $13.84 | In stock | |
| DJ284600028 | Cobalt Blue Teal | $21.38 | $12.83 | In stock | |
| DJ284600029 | Cobalt Turquoise | $23.07 | $13.84 | In stock | |
| DJ284600030 | Cobalt Violet | $23.07 | $13.84 | In stock | |
| DJ284600031 | Cobalt Violet Deep | $23.07 | $13.84 | In stock | |
| DJ284600033 | Deep Scarlet | $17.23 | $10.34 | In stock | |
| DJ284600034 | French Ultramarine | $21.38 | $12.83 | In stock | |
| DJ284600038 | Graphite Gray | $17.23 | $10.34 | In stock | |
| DJ284600039 | Hansa Yellow Medium | $21.38 | $12.83 | In stock | |
| DJ284600040 | Hansa Yellow Deep | $17.23 | $10.34 | In stock | |
| DJ284600041 | Hansa Yellow Light | $17.23 | $10.34 | In stock | |
| DJ284600042 | Hookers Green | $17.23 | $10.34 | In stock | |
| DJ284600043 | Indanthrone Blue | $21.38 | $12.83 | In stock | |
| DJ284600044 | Indian Red | $17.23 | $10.34 | In stock | |
| DJ284600045 | Indian Yellow | $23.07 | $13.84 | In stock | |
| DJ284600046 | Indigo | $17.23 | $10.34 | In stock | |
| DJ284600047 | Italian Burnt Sienna | $21.38 | $12.83 | In stock | |
| DJ284600048 | Ivory Black | $17.23 | $10.34 | In stock | |
| DJ284600049 | Lunar Black | $17.23 | $10.34 | In stock | |
| DJ284600050 | Lunar Earth | $17.23 | $10.34 | In stock | |
| DJ284600051 | Manganese Blue Hue | $17.23 | $10.34 | In stock | |
| DJ284600054 | Mars Yellow | $17.23 | $10.34 | In stock | |
| DJ284600056 | Monte Amiata Natural Sienna | $17.23 | $10.34 | In stock | |
| DJ284600057 | Moonglow | $21.38 | $12.83 | In stock | |
| DJ284600058 | Naples Yellow | $17.23 | $10.34 | In stock | |
| DJ284600059 | Naphthamide Maroon | $17.23 | $10.34 | In stock | |
| DJ284600060 | New Gamboge | $17.23 | $10.34 | In stock | |
| DJ284600061 | Nickel Azo Yellow | $21.38 | $12.83 | In stock | |
| DJ284600062 | Nickel Titanate Yellow | $17.23 | $10.34 | In stock | |
| DJ284600063 | Olive Green | $17.23 | $10.34 | In stock | |
| DJ284600064 | Organic Vermilion | $21.38 | $12.83 | In stock | |
| DJ284600065 | Payne's Gray | $17.23 | $10.34 | In stock | |
| DJ284600066 | Perinone Orange | $23.07 | $13.84 | In stock | |
| DJ284600067 | Permanent Green Light | $17.23 | $10.34 | In stock | |
| DJ284600068 | Permanent Brown | $21.38 | $12.83 | In stock | |
| DJ284600069 | Permanent Red Deep | $17.23 | $10.34 | In stock | |
| DJ284600070 | Permanent Green | $17.23 | $10.34 | In stock | |
| DJ284600071 | Permanent Orange | $23.07 | $13.84 | In stock | |
| DJ284600072 | Permanent Red | $17.23 | $10.34 | In stock | |
| DJ284600073 | Permanent Violet | $23.07 | $13.84 | In stock | |
| DJ284600074 | Perylene Maroon | $23.07 | $13.84 | In stock | |
| DJ284600075 | Perylene Red | $23.07 | $13.84 | In stock | |
| DJ284600076 | Perylene Scarlet | $23.07 | $13.84 | In stock | |
| DJ284600077 | Phthalo Blue (Green Shade) | $17.23 | $10.34 | In stock | |
| DJ284600078 | Phthalo Green (Blue Shade) | $17.23 | $10.34 | In stock | |
| DJ284600079 | Phthalo Green (Yellow Shade) | $21.38 | $12.83 | In stock | |
| DJ284600080 | Phthalo Turquoise | $17.23 | $10.34 | In stock | |
| DJ284600082 | Prussian Blue | $17.23 | $10.34 | In stock | |
| DJ284600084 | Pyrrol Red | $23.07 | $13.84 | In stock | |
| DJ284600085 | Pyrrol Scarlet | $23.07 | $13.84 | In stock | |
| DJ284600086 | Quinacridone Burnt Orange | $21.38 | $12.83 | In stock | |
| DJ284600087 | Quinacridone Burnt Scarlet | $21.38 | $12.83 | In stock | |
| DJ284600088 | Quinacridone Coral | $21.38 | $12.83 | In stock | |
| DJ284600090 | Quinacridone Magenta | $21.38 | $12.83 | In stock | |
| DJ284600091 | Quinacridone Red | $21.38 | $12.83 | In stock | |
| DJ284600092 | Quinacridone Rose | $21.38 | $12.83 | In stock | |
| DJ284600093 | Quinacridone Sienna | $21.38 | $12.83 | In stock | |
| DJ284600094 | Quinacridone Violet | $21.38 | $12.83 | In stock | |
| DJ284600095 | Quinacridone Pink | $21.38 | $12.83 | In stock | |
| DJ284600096 | Raw Sienna | $17.23 | $10.34 | In stock | |
| DJ284600097 | Raw Umber | $17.23 | $10.34 | In stock | |
| DJ284600098 | Raw Umber Violet | $17.23 | $10.34 | In stock | |
| DJ284600099 | Rich Green Gold | $21.38 | $12.83 | In stock | |
| DJ284600101 | Rose of Ultramarine | $17.23 | $10.34 | In stock | |
| DJ284600102 | Sap Green | $21.38 | $12.83 | In stock | |
| DJ284600103 | Sepia | $17.23 | $10.34 | In stock | |
| DJ284600104 | Terre Verte | $17.23 | $10.34 | In stock | |
| DJ284600105 | Ultramarine Turquoise | $17.23 | $10.34 | In stock | |
| DJ284600106 | Ultramarine Blue | $17.23 | $10.34 | In stock | |
| DJ284600107 | Ultramarine Red | $17.23 | $10.34 | In stock | |
| DJ284600108 | Ultramarine Violet | $17.23 | $10.34 | In stock | |
| DJ284600109 | Undersea Green | $17.23 | $10.34 | In stock | |
| DJ284600110 | Van Dyke Brown | $17.23 | $10.34 | In stock | |
| DJ284600111 | Venetian Red | $17.23 | $10.34 | In stock | |
| DJ284600112 | Viridian | $21.38 | $12.83 | In stock | |
| DJ284600114 | Yellow Ochre | $17.23 | $10.34 | In stock | |
| DJ284600115 | Cobalt Blue Violet | $23.07 | $13.84 | In stock | |
| DJ284600116 | Pompeii Red | $21.38 | $12.83 | In stock | |
| DJ284600117 | Terre Ercolano | $21.38 | $12.83 | In stock | |
| DJ284600118 | Titanium White | $17.23 | $10.34 | In stock | |
| DJ284600119 | Phthalo Blue (Red Shade) | $17.23 | $10.34 | In stock | |
| DJ284600121 | German Green Raw Umber | $17.23 | $10.34 | In stock | |
| DJ284600122 | Italian Venetian Red | $17.23 | $10.34 | In stock | |
| DJ284600123 | Verona Gold Ochre | $17.23 | $10.34 | In stock | |
| DJ284600124 | Phthalo Yellow Green | $17.23 | $10.34 | In stock | |
| DJ284600126 | Pyrrol Orange | $21.38 | $12.83 | In stock | |
| DJ284600127 | Pyrrol Crimson | $21.38 | $12.83 | In stock | |
| DJ284600128 | Prussian Green | $17.23 | $10.34 | In stock | |
| DJ284600129 | Transparent Brown Oxide | $17.23 | $10.34 | In stock | |
| DJ284600130 | Transparent Red Oxide | $17.23 | $10.34 | In stock | |
| DJ284600131 | Transparent Yellow Oxide | $17.23 | $10.34 | In stock | |
| DJ284600132 | Quinacridone Fuchsia | $21.38 | $12.83 | In stock | |
| DJ284600133 | Permanent Yellow Deep | $21.38 | $12.83 | In stock | |
| DJ284600134 | French Ochre | $17.23 | $10.34 | In stock | |
| DJ284600135 | Italian Deep Ochre | $17.23 | $10.34 | In stock | |
| DJ284600136 | English Red Ochre | $17.23 | $10.34 | In stock | |
| DJ284600137 | English Red Earth | $17.23 | $10.34 | In stock | |
| DJ284600138 | Lapis Lazuli Genuine | $32.54 | $19.52 | In stock | |
| DJ284600139 | Green Gold | $21.38 | $12.83 | In stock | |
| DJ284600141 | Lunar Red Rock | $17.23 | $10.34 | In stock | |
| DJ284600142 | Cascade Green | $17.23 | $10.34 | In stock | |
| DJ284600143 | Minnesota Pipestone Genuine | $21.38 | $12.83 | In stock | |
| DJ284600144 | Goethite (Brown Ochre) | $17.23 | $10.34 | In stock | |
| DJ284600145 | Sedona Geniune | $21.38 | $12.83 | In stock | |
| DJ284600146 | Yavapai Genuine | $21.38 | $12.83 | In stock | |
| DJ284600147 | Burgundy Yellow Ochre | $21.38 | $12.83 | In stock | |
| DJ284600148 | Potter's Pink | $23.07 | $13.84 | In stock | |
| DJ284600150 | Sleeping Beauty Turquoise Genuine | $32.54 | $19.52 | In stock | |
| DJ284600151 | Burgundy Red Ochre | $21.38 | $12.83 | In stock | |
| DJ284600152 | Quinacridone Deep Gold | $21.38 | $12.83 | In stock | |
| DJ284600154 | Bismuth Vanadate Yellow | $21.38 | $12.83 | In stock | |
| DJ284600155 | Kingman Green Turquoise Genuine | $32.54 | $19.52 | In stock | |
| DJ284600156 | Hematite Genuine | $23.07 | $13.84 | In stock | |
| DJ284600157 | Hematite Violet Genuine | $23.07 | $13.84 | In stock | |
| DJ284600158 | Hematite Burnt Scarlet Genuine | $23.07 | $13.84 | In stock | |
| DJ284600161 | Tiger's Eye Genuine | $21.38 | $12.83 | In stock | |
| DJ284600162 | Burnt Tiger's Eye Genuine | $21.38 | $12.83 | In stock | |
| DJ284600163 | Amazonite Genuine | $21.38 | $12.83 | In stock | |
| DJ284600164 | Purpurite Genuine | $21.38 | $12.83 | In stock | |
| DJ284600165 | Lemon Yellow | $17.23 | $10.34 | In stock | |
| DJ284600166 | Mummy Bauxite | $17.23 | $10.34 | In stock | |
| DJ284600167 | Rhodonite Genuine | $21.38 | $12.83 | In stock | |
| DJ284600169 | Fuchsite Genuine | $21.38 | $12.83 | In stock | |
| DJ284600170 | Burnt Yellow Ochre | $21.38 | $12.83 | In stock | |
| DJ284600171 | Roasted French Ochre | $21.38 | $12.83 | In stock | |
| DJ284600172 | Fire Gold Ochre | $21.38 | $12.83 | In stock | |
| DJ284600173 | Verditer Blue | $21.38 | $12.83 | In stock | |
| DJ284600174 | Imperial Purple | $21.38 | $12.83 | In stock | |
| DJ284600175 | Deep Sap Green | $21.38 | $12.83 | In stock | |
| DJ284600176 | Enviro-Friendly Yellow Iron Oxide | $21.38 | $12.83 | In stock | |
| DJ284600177 | Enviro-Friendly Red Iron Oxide | $21.38 | $12.83 | In stock | |
| DJ284600178 | Enviro-Friendly Brown Iron Oxide | $21.38 | $12.83 | In stock | |
| DJ284600179 | Sodalite Genuine | $28.74 | $17.24 | In stock | |
| DJ284600180 | Zoisite Genuine | $28.74 | $17.24 | In stock | |
| DJ284600181 | Rare Green Earth | $21.38 | $12.83 | In stock | |
| DJ284600182 | Lunar Violet | $21.38 | $12.83 | In stock | |
| DJ284600183 | Lunar Blue | $21.38 | $12.83 | In stock | |
| DJ284600184 | Cadmium Yellow Medium Hue | $23.07 | $13.84 | In stock | |
| DJ284600185 | Permanent Alizarin Crimson | $21.38 | $12.83 | In stock | |
| DJ284600186 | Kyanite Genuine | $28.74 | $17.24 | In stock | |
| DJ284600187 | Transparent Pyrrol Orange | $21.38 | $12.83 | In stock | |
| DJ284600188 | Shadow Violet | $21.38 | $12.83 | In stock | |
| DJ284600189 | Red Fuchsite Genuine | $23.07 | $13.84 | In stock | |
| DJ284600190 | Serpentine Genuine | $28.74 | $17.24 | In stock | |
| DJ284600191 | Piemontite Genuine | $28.74 | $17.24 | In stock | |
| DJ284600192 | Cadmium Yellow Light Hue | $23.07 | $13.84 | In stock | |
| DJ284600193 | Bloodstone Genuine | $21.38 | $12.83 | In stock | |
| DJ284600194 | Perylene Green | $21.38 | $12.83 | In stock | |
| DJ284600195 | Jadeite Genuine | $28.74 | $17.24 | In stock | |
| DJ284600196 | Blue Apatite Genuine | $28.74 | $17.24 | In stock | |
| DJ284600197 | Green Apatite Genuine | $23.07 | $13.84 | In stock | |
| DJ284600198 | Opera Pink | $17.23 | $10.34 | In stock | |
| DJ284600199 | Bronzite Genuine | $23.07 | $13.84 | In stock | |
| DJ284600200 | Sugilite Genuine | $23.07 | $13.84 | In stock | |
| DJ284600201 | Perylene Violet | $23.07 | $13.84 | In stock | |
| DJ284600203 | Amethyst Genuine | $28.74 | $17.24 | In stock | |
| DJ284600204 | Burnt Bronzite Genuine | $23.07 | $13.84 | In stock | |
| DJ284600205 | Garnet Genuine | $28.74 | $17.24 | In stock | |
| DJ284600206 | Cerulean Blue | $23.07 | $13.84 | In stock | |
| DJ284600207 | Black Tourmaline Genuine | $23.07 | $13.84 | In stock | |
| DJ284600208 | Spring Green | $23.07 | $13.84 | In stock | |
| DJ284600209 | Sickerite Genuine | $28.74 | $17.24 | In stock | |
| DJ284600210 | Diopside Genuine | $23.07 | $13.84 | In stock | |
| DJ284600211 | Mayan Blue Genuine | $23.07 | $13.84 | In stock | |
| DJ284600212 | Mayan Yellow | $23.07 | $13.84 | In stock | |
| DJ284600213 | Mayan Dark Blue | $23.07 | $13.84 | In stock | |
| DJ284600214 | Mayan Violet | $23.07 | $13.84 | In stock | |
| DJ284600215 | Azo Yellow | $23.07 | $13.84 | In stock | |
| DJ284600216 | Mayan Orange | $23.07 | $13.84 | In stock | |
| DJ284600217 | Mayan Red | $23.07 | $13.84 | In stock | |
| DJ284600218 | Isindoline Yellow | $21.38 | $12.83 | In stock | |
| DJ284600219 | Cadmium Red Scarlet Hue | $23.07 | $13.84 | In stock | |
| DJ284600220 | Cadmium Orange Hue | $23.07 | $13.84 | In stock | |
| DJ284600221 | Cadmium Yellow Deep Hue | $23.07 | $13.84 | In stock | |
| DJ284600222 | Cadmium Red Medium Hue | $23.07 | $13.84 | In stock | |
| DJ284600223 | Quinophthalone Yellow | $23.07 | $13.84 | In stock | |
| DJ284600224 | Anthraquinoid Scarlet | $23.07 | $13.84 | In stock | |
| DJ284600225 | Quinacridone Purple | $21.38 | $12.83 | In stock | |
| DJ284600229 | Neutral Tint | $17.23 | $10.34 | In stock | |
| DJ284600230 | Burnt Sienna Light | $17.23 | $10.34 | In stock | |
| DJ284600231 | Wisteria | $21.38 | $12.83 | In stock | |
| DJ284600232 | Lavender | $21.38 | $12.83 | In stock | |
| DJ284600233 | Raw Sienna Light | $17.23 | $10.34 | In stock | |
| DJ284600234 | Aussie Red Gold | $21.38 | $12.83 | In stock | |
| DJ284600235 | Payne's Blue Gray | $17.23 | $10.34 | In stock | |
| DJ284600236 | Quinacridone Lilac | $21.38 | $12.83 | In stock | |
| DJ284600237 | Rose Madder Permanent | $21.38 | $12.83 | In stock | |
| DJ284600238 | Quinacridone Gold | $21.38 | $12.83 | In stock | |
| DJ284600239 | Jane's Grey | $21.38 | $12.83 | In stock | |
| DJ284600240 | Red Jasper Genuine | $23.07 | $13.84 | In stock | |
| DJ284600241 | Gray Titanium | $17.23 | $10.34 | In stock | |
| DJ284600242 | Alvaro's Fresco Grey | $21.38 | $12.83 | In stock | |
| DJ284600243 | Alvaro's Caliente Grey | $21.38 | $12.83 | In stock | |
| DJ284600244 | Joseph Z's Neutral Grey | $21.38 | $12.83 | In stock | |
| DJ284600245 | Joseph Z's Cool Grey | $21.38 | $12.83 | In stock | |
| DJ284600246 | Joseph Z's Warm Grey | $21.38 | $12.83 | In stock | |
| DJ284640001 | Interference Blue | $17.23 | $10.34 | In stock | |
| DJ284640002 | Interference Copper | $17.23 | $10.34 | In stock | |
| DJ284640003 | Interference Gold | $17.23 | $10.34 | In stock | |
| DJ284640004 | Interference Green | $17.23 | $10.34 | In stock | |
| DJ284640005 | Interference Lilac | $17.23 | $10.34 | In stock | |
| DJ284640006 | Interference Red | $17.23 | $10.34 | In stock | |
| DJ284640007 | Interference Silver | $17.23 | $10.34 | In stock | |
| DJ284640008 | Iridescent Antique Bronze | $17.23 | $10.34 | In stock | |
| DJ284640009 | Iridescent Antique Copper | $17.23 | $10.34 | In stock | |
| DJ284640010 | Iridescent Antique Gold | $17.23 | $10.34 | In stock | |
| DJ284640011 | Iridescent Antique Silver | $17.23 | $10.34 | In stock | |
| DJ284640012 | Iridescent Aztec Gold | $17.23 | $10.34 | In stock | |
| DJ284640014 | Iridescent Blue Silver | $17.23 | $10.34 | In stock | |
| DJ284640015 | Iridescent Bronze | $17.23 | $10.34 | In stock | |
| DJ284640016 | Iridescent Copper | $17.23 | $10.34 | In stock | |
| DJ284640017 | Iridescent Gold | $17.23 | $10.34 | In stock | |
| DJ284640018 | Iridescent Goldstone | $17.23 | $10.34 | In stock | |
| DJ284640019 | Iridescent Jade | $17.23 | $10.34 | In stock | |
| DJ284640020 | Iridescent Russet | $17.23 | $10.34 | In stock | |
| DJ284640021 | Iridescent Scarab Red | $17.23 | $10.34 | In stock | |
| DJ284640022 | Iridescent Sunstone | $17.23 | $10.34 | In stock | |
| DJ284640023 | Iridescent Topaz | $17.23 | $10.34 | In stock | |
| DJ284640024 | Pearlescent Shimmer | $17.23 | $10.34 | In stock | |
| DJ284640025 | Pearlescent White | $17.23 | $10.34 | In stock | |
| DJ284640026 | Duochrome Mauve | $17.23 | $10.34 | In stock | |
| DJ284640027 | Iridescent Electric Blue | $17.23 | $10.34 | In stock | |
| DJ284640028 | Iridescent Garnet | $17.23 | $10.34 | In stock | |
| DJ284640029 | Duochrome Oceanic | $17.23 | $10.34 | In stock | |
| DJ284640030 | Duochrome Aquamarine | $17.23 | $10.34 | In stock | |
| DJ284640031 | Duochrome Hibiscus | $17.23 | $10.34 | In stock | |
| DJ284640032 | Iridescent Ruby | $17.23 | $10.34 | In stock | |
| DJ284640033 | Iridescent Sapphire | $17.23 | $10.34 | In stock | |
| DJ284640034 | Iridescent Moonstone | $17.23 | $10.34 | In stock | |
| DJ284640035 | Duochrome Desert Bronze | $17.23 | $10.34 | In stock | |
| DJ284640036 | Duochrome Adobe | $17.23 | $10.34 | In stock | |
| DJ284640037 | Duochrome Saguaro Green | $17.23 | $10.34 | In stock | |
| DJ284640038 | Duochrome Cactus Flower | $17.23 | $10.34 | In stock | |
| DJ284640039 | Duochrome Blue Pearl | $17.23 | $10.34 | In stock | |
| DJ284640040 | Duochrome Green Pearl | $17.23 | $10.34 | In stock | |
| DJ284640041 | Duochrome Violet Pearl | $17.23 | $10.34 | In stock | |
| DJ284640042 | Duochrome Emerald | $17.23 | $10.34 | In stock | |
| DJ284640043 | Duochrome Turquoise | $17.23 | $10.34 | In stock | |
| DJ284640044 | Duochrome Cabo Blue | $17.23 | $10.34 | In stock | |
| DJ284640045 | Duochrome Violet Fantasy | $17.23 | $10.34 | In stock | |
| DJ284640046 | Duochrome Arctic Fire | $17.23 | $10.34 | In stock | |
| DJ284640047 | Duochrome Autumn Mystery | $17.23 | $10.34 | In stock | |
| DJ284640048 | Duochrome Tropic Sunrise | $17.23 | $10.34 | In stock | |
| DJ284640049 | Duochrome Lapis Sunlight | $17.23 | $10.34 | In stock | |
| DJ284600247 | Phthalo Blue Turquoise | $21.38 | $12.83 | Special order | |