Bristol Pads
Paper resistant to solvent based markers and it withstands repeated erasures. Ideal for ink, airbrush, ballpoint, pencil. Perfect for illustration, design and manga. Each glue-bound pad contain 20 sheets.
---
An economical paper of 2-ply bristol weight in a choice of two surfaces. Vellum is designed for a broad range of drawing including crayon, pencil, charcoal and art markers. Smooth is ideal for fine pen and ink, pencil and mechanical drawing. Twenty sheets per tape-bound pad. Acid-free.
---
Bristol drawing papers with all the characteristics of a fine drawing surface in a heavier weight sheet. They come in a Vellum surface ideal for a broad range of media, and a Smooth surface suited for pen or pencil. Fifteen 2-ply sheets per tape-bound pad. Acid-free.
---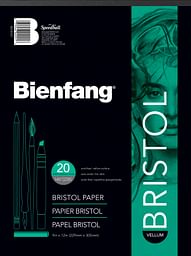 Available in two surfaces (vellum and smooth), these glue-bound pads contain 20 sheets of 146lb (238gsm), acid-free paper. The fine, vellum surface is ideal for use with crayon, colored pencils, charcoal and oil pastels, while the smooth surface is excellent for use with pen & ink or markers.
---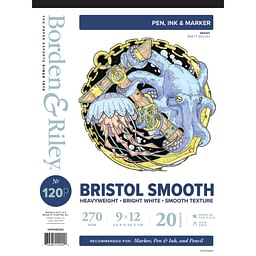 This pH-neutral 2-ply, 157 lb. bristol paper features a smooth plate finish ideal for pen & ink drawings, airbrush and more. The ultra-smooth surface is ideal for illustrators and graphic artists. Each pad has 20 sheets.
---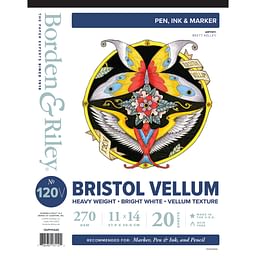 These pads consist of 20 sheets of 157 lb., neutral pH bristol vellum with a "kid" finish, ideal for dry and mixed media drawings.
---
This heavy-weight 100 lb. bright white bristol paper allows for high contrast, has excellent erasability and is good for scanning. Comes in both smooth surface and vellum textured finishes. Good for use with pen & ink, marker, pencil and colored pencil.
---
Designed to appeal to students, these recycled bristol pads combine performance with value. They feature heavy-weight 96 lb. sheets made with 30% post-consumer waste. Each sheet provides two distinct bright white surfaces, one smooth and on textured. Both surfaces offer superior blending and erasing capabilities.
---
These pads contain 20 sheets of traditional 100 lb. (270 gsm) Bristol vellum or smooth paper with bright white surface for high contrast artwork. The smooth surface is perfect for fine detail work. They feature dual loop wire bound construction and "In & Out" pages (patent pending) that allow you to remove sheets from the pad for drawing, reworking, scanning and more. Upon completion, simply return the sheets into the pad.
---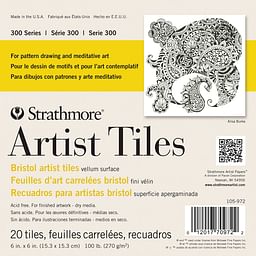 The 300 Series Bristol Vellum is appropriate for dry media, pattern drawing and meditative art due to its convenient size and format. This 6" x 6" glue-bound pad contains 20 acid-free, vellum-surfaced, 100 lb. Bristol artist tiles. Made in the USA.
---
This 100% cotton acid-free paper can take repeated erasures and reworking without feathering. Vellum surface is appropriate for almost any technique. Plate surface is designed for fine pen, airbrush or markers. Fifteen 2-ply sheets per tape-bound pad.
---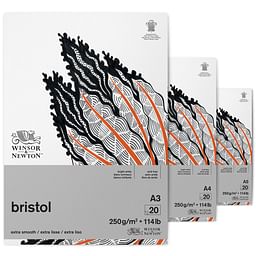 This Bristol paper features an extra-smooth, bright white strong surface for repeated working and erasing. It is acid-free and made using FSC certified pulp to protect forests. It is an excellent surface for fine detail drawings and illustrations with pencil technical pen, fineliner ink, marker and airbrush. Each pad contains twenty 250gsm sheets.
---