Rice Paper
Hosho paper is a machine-made, high grade Kozo paper well suited for sumi painting and brush calligraphy. Each pad contains 48 sheets of white Hosho paper.
---
Beautiful imported oriental papers made from a variety of fibers in versatile absorbent rolls for ink and brush work, watercolor, sketching, etc.
---
These rice paper pads are made of Kozo and Hosho fibers. Kozo is the principal fiber used in most Japanese papers and is noted for its length, strength and fineness. Hosho is a highly refined Kozo paper noted for its thickness, strength and fluffiness. Both styles are known for their resistance to shrinkage.
---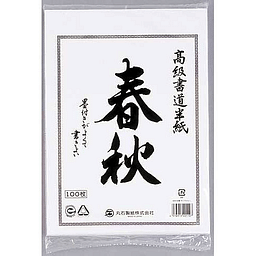 This light-weight 9.5" x 13.25" practice calligraphy paper is intended for sumi and oriental watercolor.
---
Machine-made in Thailand, this natural color paper is made of 100% Kozo fiber. It features two natural deckles and two cut edges. It is an all purpose paper that can be used for most printmaking applications.
---