Sketching & Tracing Pads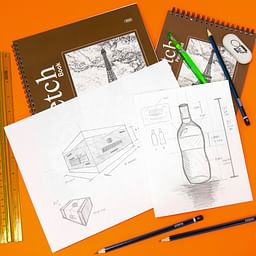 These pads are made with lightweight 20 lb. (75gsm) acid-free sketch paper, ideal for artists, writers, illustrators, beginners, or professionals. The paper has a smooth surface, good for sketching in a variety of media: pen, pencil, color pencils, marker, ink, charcoal, soft pastel, oil pastel, and crayon.
---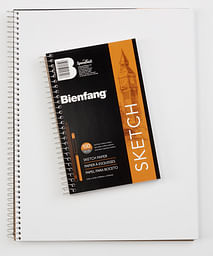 Each of these wire-bound sketchbooks contains 100 sheets of lightweight, general purpose acid-free sketch paper (50lb / 81gsm). Great for learning new techniques with pencil and pen.
---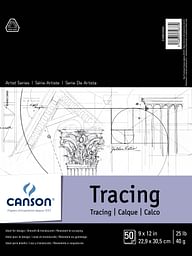 Tracing paper is an incredibly useful surface, ideal for layouts, sketches, delicate drawings and of course tracing. This paper has a fine, highly transparent surface. Each cloth-bound pad has 50 sheets of 25 lb. tracing paper.
---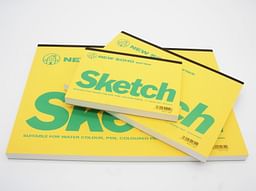 These sketch pads from famed Japanese paper company Maruman are perfect for sketching at home or on the go. They feature a colored cardstock cover, thick cardboard backing, and 70 sheets of lightly textured, acid-free heavyweight art paper. Best for graphite, colored pencils, and pens, the paper will also do well with light washes of watercolor and ink.
---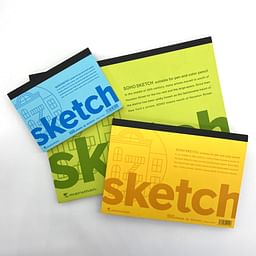 Soho Series sketch pads are suitable for pen and colored pencil. Each tape-bound pad contains 100 sheets of 96.4gsm white acid-free paper.
---
An economical tracing paper for use with markers, pencils and crayons. Fifty sheets per pad.
---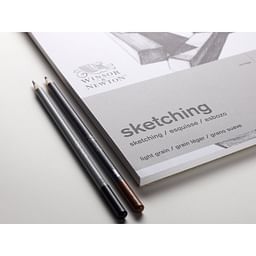 This paper is suitable for sketching and drawing across all dry media like charcoal, graphite or colored pencils. The extra-white, light-weight and slightly-textured 110gsm paper is acid-free and FSC certified and sourced from responsibly managed forests. Pads are wire-bound, with 50 micro-perforated sheets per pad.
---
These pads offer professional artists and students high quality paper to create on. The 100% cotton composition enhances durability and gives it a beautiful appearance that is soft to the touch. They work exceptionally well with pencil, pen & ink, charcoal, and pastel. Each pad contains 20 70 lb. sheets that are erasable and smudge resistant
---
Use this tracing paper for rough sketches, development drawings and overlays. It features excellent transparency and tooth. Pads are individually wrapped in PVC film for protection.
---
Excellent transparency and a non-glare, fine surface make this 25 lb. tracing paper ideal for rough sketches and overlays. Each tape-bound pad contains 50 sheets.
---
The lightweight of the Monroe line. Exceptionally clear and top rated in transparency, it resists curling and wrinkling. Features a fine textured surface that withstands repeated erasures without ghosting. For transfer tracing, fine-line drafting, sketching, advertising layouts and preliminary architectural drawings. Available in 50 sheet pads.
---
The heavyweight of the Monroe line. This tracing paper has excellent transparency with a fine surface. It is very sturdy for transfer tracing. It provides for superior diazo prints. Available in 50 sheet pads.
---
Ideal for sketches, preliminary drawings and overlays, the highly transparent, smooth, white parchment-type paper accepts pencil, marker and ink. Each pad is tape-bound at the top and contains 40 sheets of 25 lb. paper.
---