Sketching & Tracing Rolls
Popular with architects, designers and engineers, this light-weight 8 lb. (white) and 7 lb. (canary) sketching and tracing paper is excellent for developmental sketches, preliminary detail renderings and quick roughs. This paper works well with pencil, crayon, tempera and ink.
---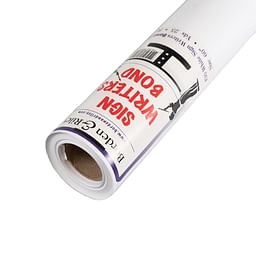 This 20 lb. medium-tooth, acid-free poster bond is excellent for quick sketches in pencil, charcoal and pastel. The paper has a fine white finish allowing for clean, non-feathering lines and brilliant color production.
---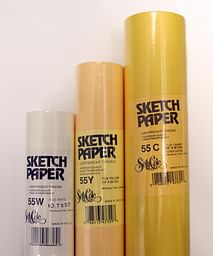 Economical, 7 lb. sketching and tracing paper in 50 yds. shrink-wrapped rolls.
---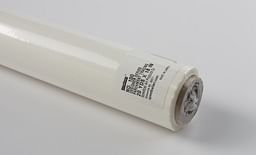 The most economical way to purchase this highly transparent, fine surface paper. This 24 lb. paper is great for use with pencil, pen & ink, and markers.
---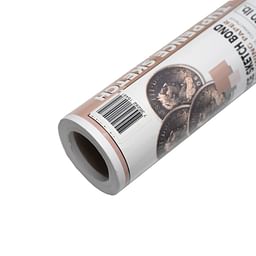 This acid-free, 70 lb., heavy-weight white sketch bond paper has a wove finish and good tooth for finished drawings in graphite, charcoal, pastels and colored pencils. In ten yard rolls.
---
These rolls of light-weight tracing paper are excellent for transfer tracing, fineline drafting, sketching and architectural drawings. The paper is exceptionally clear and it resists curling and wrinkling. In 20 yard rolls.
---
The heavyweight of the Monroe line. This tracing paper has excellent transparency with a fine surface. It is very sturdy for transfer tracing. It provides for superior diazo prints. In 20 yard rolls.
---
These rolls consist of 20 yards of affordable, heavy-weight all-purpose 60 lb. paper that is excellent for temporary drawings and bold sketches.
---
Thumbnail Soft Tone Sketch; the ideal paper for the architect, engineer, illustrator and student. It responds beautifully to pencil, ink, chalk or felt tip markers. Fortified to withstand considerable handling and yet transparent enough to read an original through a four sheet overlay. Also known as a bum wad, fodder, and pattern paper.
---
Finest quality, 25 lb. tracing paper- extremely clear with excellent transparency. Proper tooth for pencil and pen and ink.
---
Light-weight for quick sketching, tracing, drafting and overlays, this 18 lb. paper comes in rolls.
---
RENDR No Show Thru paper is a revolutionary paper that protects the surface behind the roll. No more limitations to what types of edit you use on your paper. Your media will not bleed through the paper onto your wall or surface. RENDR paper products are your legacy, your history, your thought process documented.
---