Our downtown store is temporarily closed to the public.
We are offering
curbside pickup
, local bike delivery, and nationwide shipping.
Watercolor Pads
These tape-bound watercolor pads contain 12 sheets of Arches watercolor paper. Made with natural gelatin sizing, each 100% cotton 140 lb. sheet is acid-free and has a natural white finish.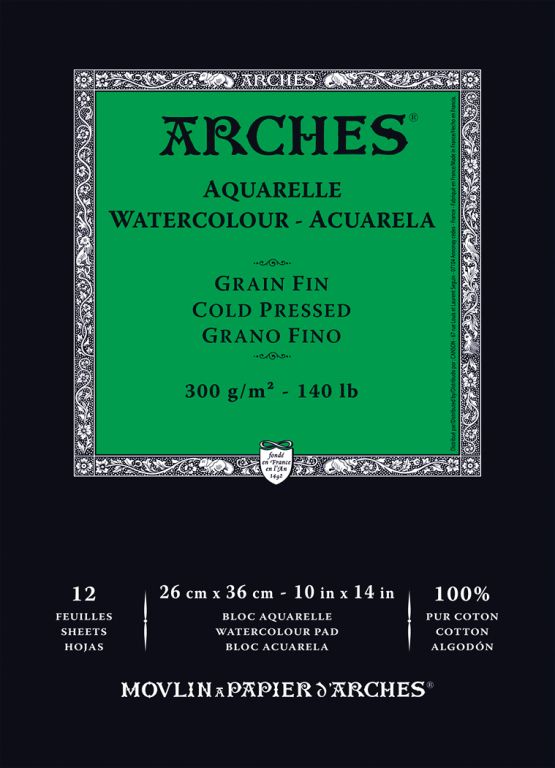 Cold Press
| Item No. | Description | List | Sale | In Stock | |
| --- | --- | --- | --- | --- | --- |
| AP1795092 | 9" × 12" | $24.05 | $16.84 | Out of stock | |
| AP1795093 | 10" × 14" | $32.90 | $23.03 | Out of stock | |
Hot Press
| Item No. | Description | List | Sale | In Stock | |
| --- | --- | --- | --- | --- | --- |
| AP1795097 | 9" × 12" | $24.05 | $16.84 | In stock | |
| AP1795098 | 10" × 14" | $32.90 | $23.03 | Out of stock | |
Rough
| Item No. | Description | List | Sale | In Stock | |
| --- | --- | --- | --- | --- | --- |
| AP1795102 | 9" × 12" | $24.05 | $16.84 | Out of stock | |
| AP1795103 | 10" × 14" | $32.90 | $23.03 | Out of stock | |