Dip Pen Nibs & Holders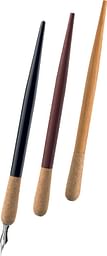 The Gemini nib penholder is an elegant with a cork grip fashioned in FSC-certified beech wood natural, mahogany, or black stained. Nib is not included.
---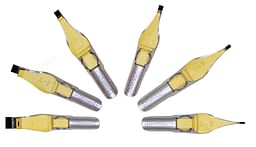 Utilizing the same historically proven processes specifically catered to each individual nib's design, Speedball takes painstaking measures to ensure that each of these nibs meets even the most discerning standards.
---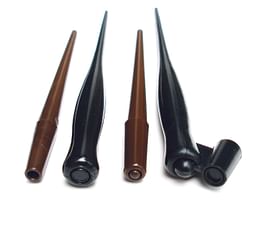 The A (Crow Quill) pen holder fits nibs #102, #107 and #108. The B (Traditional) pen holder fits nibs #22B, #56, #99, #101, #512, #513EF and all steel brush nibs. The C (Finest) pen holder fits nibs #100, #103 and #104. The D (Oblique) pen holder is for copperplate/Spencerian script with the #101 and #103 nibs.
---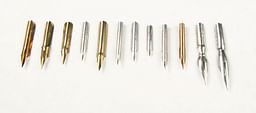 Offered in a range of widths and varying degrees of stiffness in order to provide artists the maximum amount of control, Speedball's Pointed and Crowquill Pen Nibs are made from the finest steel and hand-crafted in the USA.
---
This cork grip wooden pen holder includes a flush insert nib and features a natural wood grain finish. Proudly made in the U.S.A.
---
The soft cork grip on this penholder makes writing easy.
---
A copperplate nib set that includes a crown, an extra fine and a shorthand nib. It also comes with reservoirs.
---
This carded drawing and sketching nib set includes one gilt drawing nib suitable for use on China and Porcelain, one nickel nib ideal for sketching and one fine nickel nib ideal for drawing and sketching. It also comes with reservoirs.
---
Five C Style left-handed pen nibs, sizes (0-4), one of each size.
---
These attractive, high-quality pen holders fit A, B, C, and D, Nos. 22B, 56, 99, 101, 512 and 513EF pen points and steel brushes. Each high-quality pen holder features a marbleized design and a long-lasting metal chuck.
---
Popular sketching/drawing pen point #102 with holder. Super-fine flexible tip.
---
Durable super-fine pen point #107 with holder. For long, even lines and cross-hatching.
---
Speedball pen nibs are handcrafted from the finest steel. Their triple reservoir design features three reservoirs for increased ink capacity and extended smooth, uninterrupted ink flow. These nibs are especially designed for left-handed users.
---