Dry Erase Markers & Erasers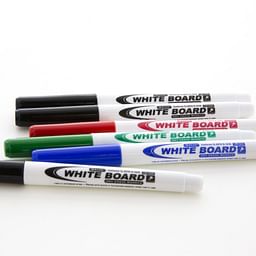 Ink pigment is made with easy-wipe formula that'll leave your whiteboard looking as good as new. Smear-proof and quick-drying makes it safe for all uses, even for kids!
---
Bright washable fine line dry-erase markers in assorted colors, great for home and on the go! The 6-Marker Set includes infra red, electric green, blue bolt, orange circuit, laser lemon and black.
---
Expo dry-erase markers are erasable from porcelain dry-erase boards as well as glass and unpainted metal. Their plastic color-coded barrels make color identification simple. The specially formulated low odor ink is ideal for classrooms, small offices and homes. In sets of four markers. Primary Color Sets include black, red, blue and green. Fashion Color Sets include intense purple, blue, green and pink. Tropical Color Sets include aqua, lime, pink and turquoise.
---
These soft pile erasers are for use on white boards, porcelain and melamine surfaces. They remove markings quickly and cleanly from dry erase surfaces.
---
Dirt, ghosting, shadows and any stubborn stain are quickly removed with Expo White Board Cleaner. It only takes a few well-placed sprays, then wipe and watch the unwanted stains disappear. In a pump-spray bottle.
---