Our downtown store is temporarily closed to the public.
We are offering
curbside pickup
, local bike delivery, and nationwide shipping.
DecoColor Paint Markers
Opaque paint markers that will fully cover any surface. Featuring acid-free, permanent, lightfast, weatherproof oil-based ink that is good on most surfaces including paper, glass, leather, metal, etc. The color will remove or blend with ordinary turpentine.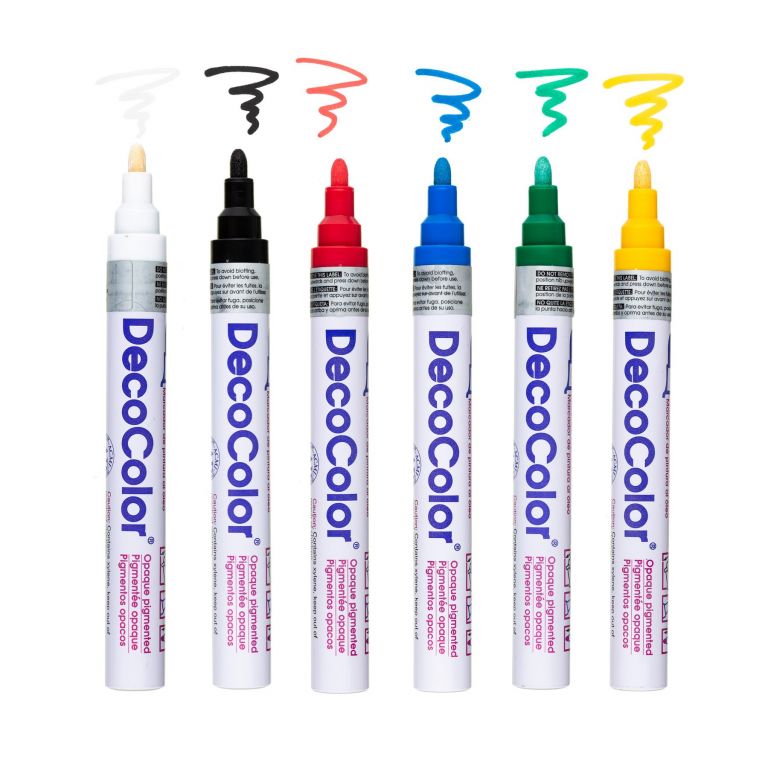 Broad
| Item No. | Description | List | Sale | In Stock | |
| --- | --- | --- | --- | --- | --- |
| UC300S-0 | White | $3.79 | $3.49 | In stock | |
| UC300S-01 | Black | $3.79 | $3.49 | In stock | |
| UC300S-02 | Red | $3.79 | $3.49 | In stock | |
| UC300S-03 | Blue | $3.79 | $3.49 | In stock | |
| UC300S-04 | Green | $3.79 | $3.49 | In stock | |
| UC300S-05 | Yellow | $3.79 | $3.49 | In stock | |
| UC300S-06 | Brown | $3.79 | $3.49 | In stock | |
| UC300S-07 | Orange | $3.79 | $3.49 | In stock | |
| UC300S-08 | Violet | $3.79 | $3.49 | In stock | |
| UC300S-09 | Pink | $3.79 | $3.49 | In stock | |
| UC300S-10 | Light Blue | $3.79 | $3.49 | In stock | |
| UC300S-11 | Light Green | $3.79 | $3.49 | In stock | |
| UC300S-18 | Dark Brown | $3.79 | $3.49 | In stock | |
| UC300S-30 | Rosewood | $3.79 | $3.49 | In stock | |
| UC300S-31 | Pale Violet | $3.79 | $3.49 | In stock | |
| UC300S-42 | Cream Yellow | $3.79 | $3.49 | In stock | |
| UC300S-46 | Crimson Lake | $3.79 | $3.49 | In stock | |
| UC300S-50 | Ultramarine | $3.79 | $3.49 | In stock | |
| UC300S-53 | Pale Blue | $3.79 | $3.49 | In stock | |
| UC300S-59 | Rosemarie | $3.79 | $3.49 | In stock | |
| UC300S-64 | Plum | $3.79 | $3.49 | In stock | |
| UC300S-70 | Peppermint | $3.79 | $3.49 | In stock | |
| UC300S-72 | Pine Green | $3.79 | $3.49 | In stock | |
| UC300S-73 | Teal | $3.79 | $3.49 | In stock | |
| UC300S-76 | Blush Pink | $3.79 | $3.49 | In stock | |
| UC300S-77 | Peach | $3.79 | $3.49 | In stock | |
| UC300S-79 | Hot Purple | $3.79 | $3.49 | In stock | |
| UC300S-CP | Copper | $3.79 | $3.49 | In stock | |
| UC300S-GD | Gold | $3.79 | $3.49 | In stock | |
| UC300S-SV | Silver | $3.79 | $3.49 | In stock | |
Extra-Fine
| Item No. | Description | List | Sale | In Stock | |
| --- | --- | --- | --- | --- | --- |
| UC120S-GD | Gold | $3.49 | $3.29 | In stock | |
| UC120S-SL | Silver | $3.49 | $3.29 | In stock | |
| UC130S | Opaque White | $3.49 | $3.29 | In stock | |
| UC140S-1 | Black | $3.49 | $3.29 | In stock | |
| UC140S-10 | Light Blue | $3.49 | $3.29 | In stock | |
| UC140S-2 | Red | $3.49 | $3.29 | In stock | |
| UC140S-3 | Blue | $3.49 | $3.29 | In stock | |
| UC140S-31 | Pale Violet | $3.49 | $3.29 | In stock | |
| UC140S-4 | Green | $3.49 | $3.29 | In stock | |
| UC140S-42 | Cream Yellow | $3.49 | $3.29 | In stock | |
| UC140S-5 | Yellow | $3.49 | $3.29 | In stock | |
| UC140S-50 | Ultramarine | $3.49 | $3.29 | In stock | |
| UC140S-53 | Pale Blue | $3.49 | $3.29 | In stock | |
| UC140S-70 | Peppermint | $3.49 | $3.29 | In stock | |
| UC140S-76 | Blush Pink | $3.49 | $3.29 | In stock | |
| UC140S-8 | Violet | $3.49 | $3.29 | In stock | |
| UC140S-9 | Pink | $3.49 | $3.29 | In stock | |
Fine
| Item No. | Description | List | Sale | In Stock | |
| --- | --- | --- | --- | --- | --- |
| UC200-CP | Copper | $3.49 | $3.29 | In stock | |
| UC200-GD | Gold | $3.49 | $3.29 | In stock | |
| UC200-SV | Silver | $3.49 | $3.29 | In stock | |
| UC200S-0 | White | $3.49 | $3.29 | In stock | |
| UC200S-01 | Black | $3.49 | $3.29 | In stock | |
| UC200S-02 | Red | $3.49 | $3.29 | In stock | |
| UC200S-03 | Blue | $3.49 | $3.29 | In stock | |
| UC200S-04 | Green | $3.49 | $3.29 | In stock | |
| UC200S-05 | Yellow | $3.49 | $3.29 | In stock | |
| UC200S-06 | Brown | $3.49 | $3.29 | In stock | |
| UC200S-07 | Orange | $3.49 | $3.29 | In stock | |
| UC200S-08 | Violet | $3.49 | $3.29 | In stock | |
| UC200S-09 | Pink | $3.49 | $3.29 | In stock | |
| UC200S-10 | Light Blue | $3.49 | $3.29 | In stock | |
| UC200S-11 | Light Green | $3.49 | $3.29 | In stock | |
| UC200S-18 | Dark Brown | $3.49 | $3.29 | In stock | |
| UC200S-30 | Rosewood | $3.49 | $3.29 | In stock | |
| UC200S-31 | Pale Violet | $3.49 | $3.29 | In stock | |
| UC200S-42 | Cream Yellow | $3.49 | $3.29 | In stock | |
| UC200S-46 | Crimson Lake | $3.49 | $3.29 | In stock | |
| UC200S-50 | Ultramarine | $3.49 | $3.29 | In stock | |
| UC200S-53 | Pale Blue | $3.49 | $3.29 | In stock | |
| UC200S-59 | Rosemarie | $3.49 | $3.29 | In stock | |
| UC200S-64 | Plum | $3.49 | $3.29 | In stock | |
| UC200S-70 | Peppermint | $3.49 | $3.29 | In stock | |
| UC200S-72 | Pine Green | $3.49 | $3.29 | In stock | |
| UC200S-73 | Teal | $3.49 | $3.29 | In stock | |
| UC200S-76 | Blush Pink | $3.49 | $3.29 | In stock | |
| UC200S-77 | Pastel Peach | $3.49 | $3.29 | In stock | |
| UC200S-79 | Hot Purple | $3.49 | $3.29 | In stock | |