Pen Cleaners

A non-toxic, non-hazardous cleaner for use on pens and permanent ink. In a 2 oz. plastic bottle.
---
For cleaning drawing points in technical pens, this kit uses squeeze pressure to clean pens. It comes with a plastic syringe, threaded connector and 2 oz. jar of Rapido-Eze cleaner.
---
A non-flammable cleaner for use with all technical pens- it will not harm plastic or metal pen parts. Rapido-Eze can be used in ultrasonic cleaners, on clogged points or on any part covered with hard dried ink.
---
This non-toxic cleaner removes dried waterproof India ink from pens, lettering instruments and brushes.
---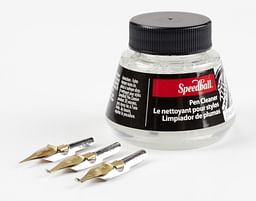 Speedball's Pen Cleaner is a highly effective cleaning agent ideal for use on brushes and nibs to remove Acrylic or India inks.
---