Refill Ink Cartridges
High performance ink technology combines the best qualities of liquid and gel ink for a super-smooth writing experience. No smears, no smudges and no globs, the quick-drying ink is ideal for lefties. One refill per pack.
---
These refills fit Pentel Tradio Stylo or Pulaman pens. The refills feature a thin calligraphy angled tip that can create a variety of line widths, from thick to thin, depending on the angle and pressure. They write smooth dark lines and are great for taking notes or writing letters.
---
These replacement ink cartridges feature water-based, non-permanent black ink. They are available in a pack of 12 ink cartridges and can be used with the Pen & Ink Sketching Fountain Pen or any other standard fountain pen.
---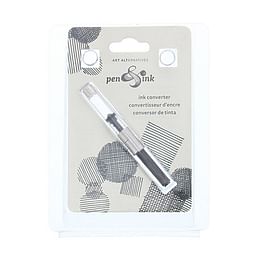 The ink converter is a reusable fountain pen ink reservoir for use with bottled ink. Simply insert the converter into pen nib section and turn the piston to draw ink from the bottle. It can be used with other fountain pen inks or the Pen & Ink No Shellac India Black Ink.
---
The standard ink cartridge for all Pelikan cartridge fountain pens as well as many other brands. Two black cartridges per pack.
---
Refill cartridges for Pilot fountain pens. Available in packs of six or twelve.
---
Refill ink cartridges for Sheaffer Calligraphy pens. Five cartridges per pack.
---