Our downtown store is temporarily closed to the public.
We are offering
curbside pickup
, local bike delivery, and nationwide shipping.
Printmaking Inks
Designed for printmakers who want strong, reliable inks for edition printing, Gamblin Etching Inks feature a high pigment load, working properties and incredible sensitivity to printmaker's marks.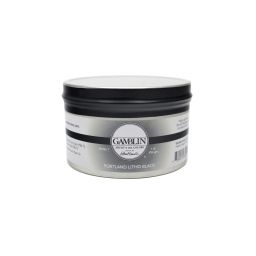 Portland Litho Black is an artist's grade lithography color that printmakers working in stone and plate have sorely needed for some time. The typical commercial lithography ink is petroleum-based and carries a low pigment load. Gamblin's Portland Litho Black is crafted with highest-quality burnt plate oil (derived from linseed oil) and a high pigment load for a rich, detailed black for printing plate and stone lithography.
Gamblin Relief Inks give printmakers and monotype artists intense colors with an incomparably high pigment load, superior working properties and the archival quality they can count on. These inks print with unparalleled intensity, brilliant undertones and sensitivity to printmakers' most finely detailed marks.
This set includes six 37ml tubes of fabric block printing ink. The colors included are red, blue, yellow, green, black and white. The oil-based ink cleans up easily with soap and water. It excels on paper, cotton and polyester blend fabrics. Printed fabrics can be laundered after curing for one week at room temperature.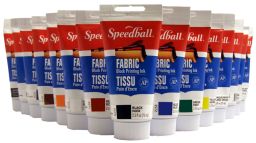 This permanent oil-based ink provides bold opaque color, yet cleans up easily with soap and water. Inks are ACMI AP non-toxic, conforming to ASTM D-4236. They are excellent on cotton, polyester blends, linen, rayon, other synthetic fibers (not for use on nylon) as well as paper and cardboard.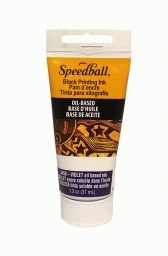 Made from high quality pigments, Speedball Oil-Based Block Printing Inks are formulated to be permanent, waterproof and archival. Available in six rich colors, these can be used for printing on paper with any traditional printmaking surface.
Speedball Professional Relief Ink is a water-miscible, oil-based printmaking ink comprised of the highest quality, lightfast pigments available with no added fillers. The ink delivers rich, intense, crisp prints with the archival qualities professionals demand, and is formulated for the working properties professional artists desire; consistent roll-out, beautiful transfer, tack and holds fine details. Just as importantly, the ink easily cleans up with soap and water.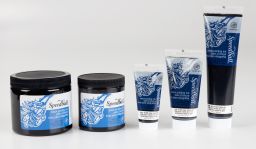 Inks that clean with water, mix and tint well. They have a satiny texture and provide uniform coverage on all printing surfaces. Retarder and extender also available.
These soy-based inks deliver brilliant colors, intense blacks and unmatched working properties. The inks only dry through absorption so they will not skin over in the jar or dry on the printmaking plate. Clean up is easy with soap and water. These inks are ideal for intaglio, etching, monotype, relief and collagraph printmaking and can be used with Akua Liquid Pigment (SPAKLY) and Akua Modifiers.
This liquid pigment delivers brilliant colors, intense blacks and unmatched working properties. It is made with the high quality light-fast pigments, with no chalk or suspending agents. Colors are exceptionally strong, yet transparent which makes them ideal for multi-layer printing. The high pigment load and wide selection of colors makes it great for tinting Akua Intaglio Ink, Akua Transparent Base and other inks. Its rich working consistency is excellent for all monotype techniques. It stays wet on the plate for an extended period of time, allowing many hours for the artist to create an image. It prints well on dry or damp paper, and cleans up easily with water. Available in 4 oz. bottles.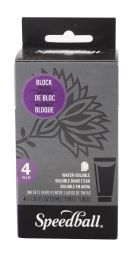 These inks clean with water, mix and tint well. They have a satiny texture and provide uniform coverage on all printing surfaces. This kit includes four water-soluble 37cc tubes of block printing ink. The colors included are black, red, blue and yellow.
This starter set contains six 37cc tubes of water-soluble blockprinting ink. Colors included are: black, blue, green, gold, red and yellow. Inks may also be used for stamping, scrapbooking and card crafting. Suitable for beginners or accomplished crafters.
A 4-color ink set in shimmering metallic colors! These block printing inks are water-soluble, non-toxic and gluten free. Perfect for use in the studio, classroom or home, these inks are also known as "relief inks" that dry to a rich, satiny finish. They are easily cleaned with water, and superb for printmaking with linoleum, wood and Speedy Cut Blocks. The set consists of four 37ml tubes of copper, gold, pewter and silver ink in a colorful, hang-tab box.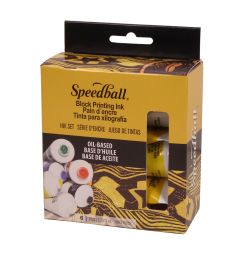 The Speedball Oil-Based Block Printing Ink is specifically designed for the professional printmaker. Each high-quality pigment produces a rich, intense color. The oil-based ink will produce permanent results and is is also waterproof.
Departments
Printmaking & Screen Printing