Our downtown store is temporarily closed to the public.
We are offering
curbside pickup
, local bike delivery, and nationwide shipping.
Fabric Block Printing Inks
This permanent oil-based ink provides bold opaque color, yet cleans up easily with soap and water. Inks are ACMI AP non-toxic, conforming to ASTM D-4236. They are excellent on cotton, polyester blends, linen, rayon, other synthetic fibers (not for use on nylon) as well as paper and cardboard.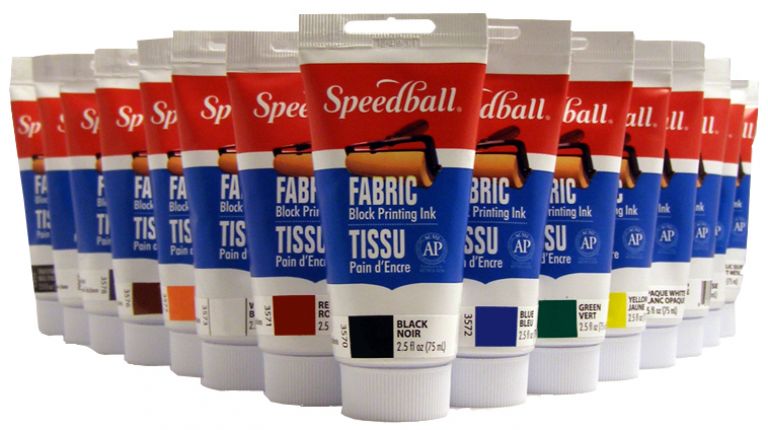 2.5 oz.
5 oz.
Item No.
Description
List
Sale
In Stock
SPD-003670
Black
$16.70
$15.03
Out of stock, special order
SPD-003671
Red
$16.70
$15.03
Out of stock, special order
SPD-003672
Blue
$16.70
$15.03
Out of stock, special order
SPD-003673
White
$16.70
$15.03
Out of stock, special order
SPD-003674
Green
$16.70
$15.03
Out of stock, special order
SPD-003675
Yellow
$16.70
$15.03
Out of stock, special order
SPD-003676
Brown
$16.70
$15.03
Out of stock, special order
SPD-003677
Orange
$16.70
$15.03
Out of stock, special order
SPD-003678
Violet
$16.70
$15.03
Out of stock, special order
SPD-003679
Turquoise
$16.70
$15.03
Out of stock, special order
SPD-003680
Magenta
$100.20
(6 pieces)
$90.18
Out of stock, special order
SPD-003683
Metallic Gold
$16.70
$15.03
Out of stock, special order
SPD-003684
Metallic Silver
$16.70
$15.03
Out of stock, special order
SPD-003685
Opaque White
$16.70
$15.03
Out of stock, special order
Departments
Printmaking & Screen Printing