Our downtown store is temporarily closed to the public.
We are offering
curbside pickup
, local bike delivery, and nationwide shipping. We will be closed on Thursday, November 26 and Friday, November 27 for Thanksgiving.
Linoleum Cutters
Finest quality steel and professional cutting edges. Interchangeable blades fit the Linozip Handle (HS4137). Available individually or with two replacement blades.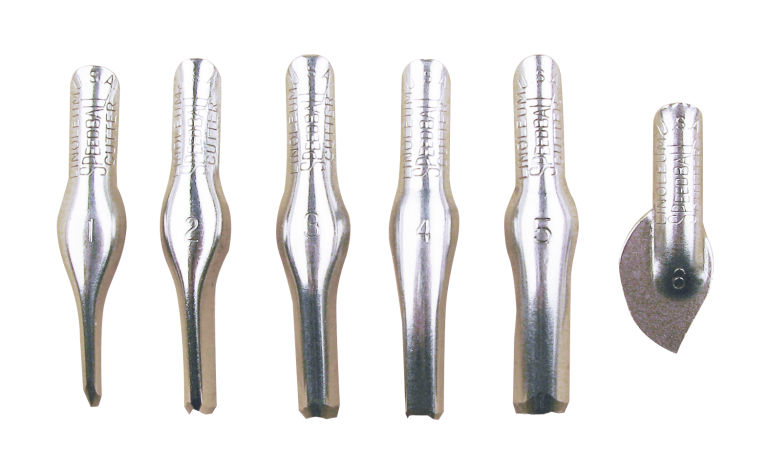 Cutters
Item No.
Description
List
Sale
In Stock
SPD-004101
No. 1
$24.48
(12 pieces)
$24.48
Out of stock, special order
SPD-004102
No. 2
$24.48
(12 pieces)
$24.48
Out of stock, special order
SPD-004103
No. 3
$24.48
(12 pieces)
$24.48
Out of stock, special order
SPD-004104
No. 4
$24.48
(12 pieces)
$24.48
Out of stock, special order
SPD-004105
No. 5
$24.48
(12 pieces)
$24.48
Out of stock, special order
SPD-004106
No. 6
$24.48
(12 pieces)
$24.48
Out of stock, special order
SPD-004111
No. 21 Lino Zip
$24.48
(12 pieces)
$24.48
Out of stock, special order
SPD-004112
No. 22 Lino Zip
$24.48
(12 pieces)
$24.48
Out of stock, special order
SPD-004113
No. 23 Lino Zip
$24.48
(12 pieces)
$24.48
Out of stock, special order
SPD-004114
No. 25 Lino Zip
$24.48
(12 pieces)
$24.48
Out of stock, special order
Cutters w/Replacement Blades
| Item No. | Description | List | Sale | In Stock | |
| --- | --- | --- | --- | --- | --- |
| SPD-041201 | #1- Liner | $3.85 | $3.46 | In stock | |
| SPD-041202 | #2- V-Shaped Gouge | $3.85 | $3.46 | In stock | |
| SPD-041203 | #3- Large Liner | $3.85 | $3.46 | In stock | |
| SPD-041204 | #4- U-Shaped Gouge | $3.85 | $3.46 | In stock | |
| SPD-041205 | #5- Large Gouge | $3.85 | $3.46 | In stock | |
| SPD-041206 | #6 - Knife | $3.93 | $3.54 | Out of stock, special order | |
Departments
Printmaking & Screen Printing