Our downtown store is temporarily closed to the public.
We are offering
curbside pickup
, local bike delivery, and nationwide shipping.
Print Posse Limited Edition Acrylic Screen Printing Inks & Additives
Speedball's Posse Acrylic Screen Printing Inks are professional-grade, offering unrivaled open time and richness of color. Formulated for printing on a range of surfaces from paper to wood and primed surfaces, each limited edition ink was hand-picked by and specially-formulated for each Print Posse artist to be reflective of their preferred palette and working properties.
These limited edition products are available for pre-order and orders will ship in late March or early April.
Stick-A-Poo Joy Juice was specially-formulated for and tested by Speedball Print Posse Artist, Andy MacDougall, to be ideal for use with Speedball Acrylic Screen Printing Ink when printing on holographic foil.
The Wild Bunch Posse Screen Printing Set contains one 8 oz. jar of each of the colors and the Stick-A-Poo Joy Juice.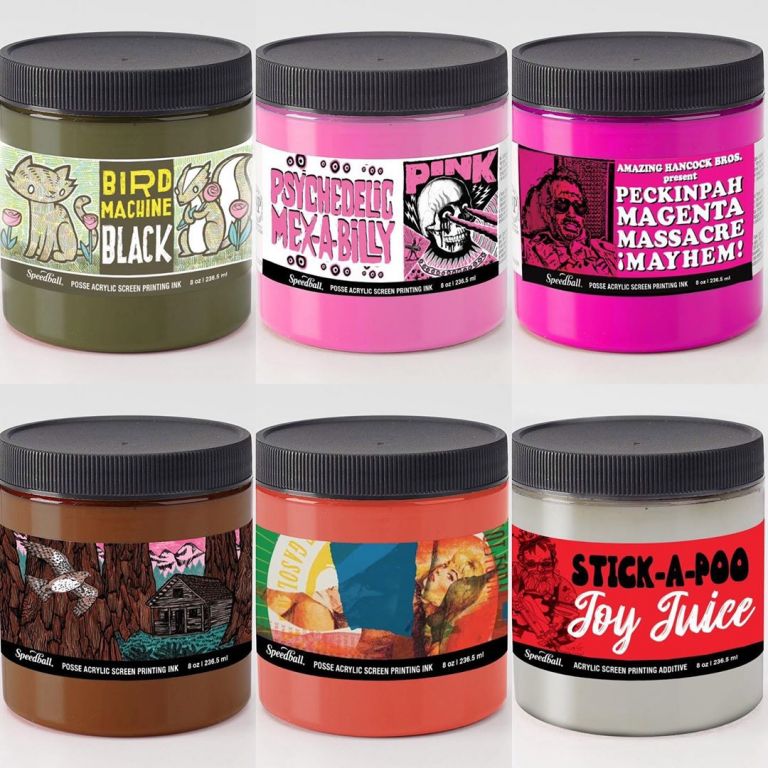 8 oz.
| Item No. | Description | List | Sale | In Stock | |
| --- | --- | --- | --- | --- | --- |
| SPD-046230 | Stick-a-Poo Joy Juice | $8.99 | $8.99 | Out of stock, special order | |
| SPD-046231 | Redwood | $10.99 | $10.99 | Out of stock, special order | |
| SPD-046232 | Tuffy Rosé | $10.99 | $10.99 | Out of stock, special order | |
| SPD-046233 | Bird Machine Black | $10.99 | $10.99 | Out of stock, special order | |
| SPD-046234 | Psychedelic Mex-a-billy Pink | $10.99 | $10.99 | Out of stock, special order | |
| SPD-046235 | Peckinpah Magenta | $10.99 | $10.99 | Out of stock, special order | |
Sets
| Item No. | Description | List | Sale | In Stock | |
| --- | --- | --- | --- | --- | --- |
| SPD-046236 | The Wild Bunch Posse Screen Printing Set | $57.55 | $57.55 | Out of stock, special order | |
Departments
Printmaking & Screen Printing