Our downtown store is temporarily closed to the public.
We are offering
curbside pickup
, local bike delivery, and nationwide shipping.
Clay Molds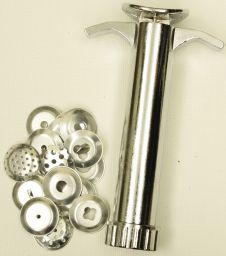 This all metal clay extrusion set features a 3-1/2" injection-style gun and 19 interchangeable discs. Use with any kind of clay, polymer clay or modeling compound. Discs allow you to make many shapes, including: borders, leaves, trees, ropes, trim, hair, grass, string, tassels, noodles, flower stems, vines, curlicues, braids, frames, ribbons, bricks, letters, shingles, weaves and more!
This indispensable tool has 19 interchangeable discs for making leaves, clovers, rope, braid, bricks, tubes, grass, hair and more. Made from top quality die-cast steel, this extruding tool provides a simple way to add attractive textural details to your polymer clay projects. The tool disassembles into three parts for easy cleanup with soap and water.