Modeling Clay
Roma Plastilina is considered by many to be the world's finest modeling material. It is permanently pliable. The soft is extremely pliable and is used for making large sculptures-it is easily scraped from molds. The medium grade is generally used for portrait heads, busts, and figure work. Medium grade is easy to work with and is the most popular consistency. Medium-firm is ideal for making models of smaller subjects. The extra hard grade is used in making extremely detailed objects such as medallions.
---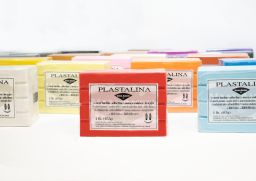 Pigmented non-hardening modeling compound renowned throughout the world for its reusability, smooth consistency, and brilliant color range. Preferred by sculptors, model makers, clay animators, and artists of all ages. This sulfur-free clay never dries out or cracks, allowing creatives to take all the time they need to create their next masterpiece!
---
This non-toxic, non-hardening clay is easy to shape but won't lose the contours you create. It has a very smooth texture making it work well for fine details. It's ideal for making "master" pieces to be cast later in bronze, plaster, or other medium because it doesn't shrink. In a 2 lb. block.
---
This 1 lb. set contains earth tone colors of clay: brown, dark green, flesh, terra-cotta.
---