Paper Sculpture and Papier Mâché
No more mixing paste and cutting strips of paper- simply add water for a great sculpting medium that is completely non-toxic and safe. Celluclay will adhere to almost any surface and can be sawed, sanded or nailed when dry.
---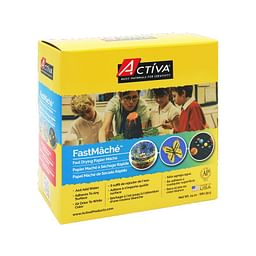 FastMâché's fast setting formula is ideal when you don't want extended drying times. It's perfect for larger pieces, and for techniques requiring quick set up/drying times. Minimal shrinkage adds to its versatility. It is heavier and has a tougher finish than other papier maches, and it dries bright white. Especially suited for 3-D work and other school project needs. Ready to use-just add water. Complete instructions and project ideas included on packaging. Non-toxic, in a 2 lb. package.
---
Claycrete is perfect for light-weight modeling projects. When mixed with water, Claycrete starts to set in about 30 minutes. It will not stick to hands or tools during the modeling process and it remains exceptionally white when dried at room temperature.
---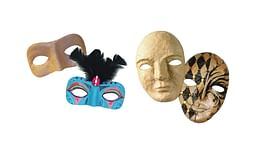 These paper-mache masks are ready to decorate. The full mask measures 6"w x 8"h, and the half-mask measures 6"w x 2.75"h.
---