Our downtown store is temporarily closed to the public.
We are offering
curbside pickup
, local bike delivery, and nationwide shipping.
Sanding Supplies
Use this sandpaper to sand between coats of varnish or paint or to sand metal. The abrasive surface is made of silicon carbide, a sharp synthetic which cuts fast and smooth. It can be used with water or cutting oil to prevent clogging and extend abrasive life. Five sheets of assorted grades per package.
Ideal for a variety of sanding needs - from resurfacing and paint removal to final finishing and creating artistic effects - these versatile sanding blocks are made of polyurethane foam coated with long-lasting grit. They can be used wet or dry and are available in fine/medium and medium/coarse grit combinations.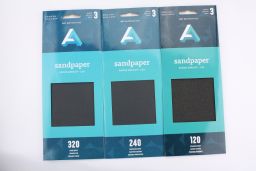 From resurfacing and paint removal to final finishing and creating artistic effects, these versatile new sanding tools are ideal for a variety of sanding needs. Available in packs of three 3.75"w x 9"h sheets in either fine (320 grit), medium (240 grit) or coarse (120 grit). The multi-pack includes one sheet of each grit.
Use this all-purpose sandpaper for sanding wood, metal, plastic, and painted surfaces. Package contains five 9" x 11" sheets made with durable, aluminum oxide abrasives. Includes two sheets each of 100 grit and 150 grit and one sheet of 220 grit.
Our oil-free artist grade steel wool was designed for removing pigment from Claybord, over large areas and for creating tonal values. It leaves Claybord clean and white when used to remove inks, watercolors, gouache, etc. It comes in three grades, 0000, 000, and 00.
These sanders feature a tungsten carbide sanding surface ideal for wood, foam, tile, glass, metal, plastic and even brick. The sanding surface is flush on one side to provide edge and corner sanding. It includes a cleaning brush allowing users to sand clean the sanding surface and sand again. Perfect for artists, crafters, hobbyists, students and more.