Our downtown store is temporarily closed to the public.
We are offering
curbside pickup
, local bike delivery, and nationwide shipping.
The Original Art Profolio
The Profolio has easy-to-use top-loading pocket pages making it perfect for long term storage and organizational needs. Fully archival safe through its polypropylene construction and acid-free mounting paper inserts. Features a reversible spine insert for custom labeling and an inner cover storage pocket. Available in a variety of popular sizes, each with 24 pages for 48 views unless otherwise noted.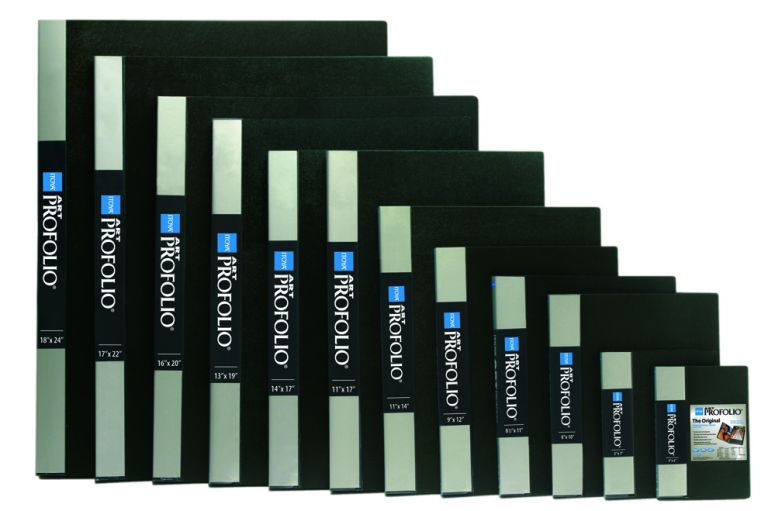 Landscape
| Item No. | Description | List | Sale | In Stock | |
| --- | --- | --- | --- | --- | --- |
| IAID-24118 | 11" × 8.5" | $12.25 | $11.02 | In stock | |
| IAID-241411 | 14" × 11" | $21.50 | $19.35 | In stock | |
| IAID-241711 | 17" × 11" | $24.25 | $21.82 | In stock | |
Portrait
| Item No. | Description | List | Sale | In Stock | |
| --- | --- | --- | --- | --- | --- |
| IA12-11 | 11" x 14" | $20.75 | $18.68 | In stock | |
| IA12-12 | 11" x 17" | $23.25 | $20.92 | In stock | |
| IA12-13 | 13" x 19" | $37.99 | $34.19 | In stock | |
| IA12-14 | 14" x 17" | $36.50 | $32.85 | In stock | |
| IA12-16 | 16" x 20" | $49.75 | $44.78 | In stock | |
| IA12-18 | 18" x 24" | $55.99 | $50.39 | In stock | |
| IA12-4 | 4" x 6" | $5.99 | $5.39 | In stock | |
| IA12-5 | 5" x 7" | $6.50 | $5.85 | In stock | |
| IA12-7 | 8" x 10" | $10.99 | $9.89 | In stock | |
| IA12-8 | 8-1/2" x 11" | $11.50 | $10.35 | In stock | |
| IA12-8-12 | 8.5" x 11" - 12 Pages | $7.75 | $6.98 | In stock | |
| IA12-8-36 | 8.5" x 11" - 36 Pages | $14.99 | $13.49 | In stock | |
| IA12-8-48 | 8.5" x 11" - 48 Pages | $18.75 | $16.88 | In stock | |
| IA12-8-60 | 8.5" x 11" - 60 Pages | $22.50 | $20.25 | In stock | |
| IA12-8-90 | 8.5" x 11" - 90 Pages | $32.50 | $29.25 | In stock | |
| IA12-9 | 9" x 12" | $14.50 | $13.05 | In stock | |
| IA12-17 | 17" x 22" | $52.50 | $47.25 | Out of stock, special order | |
| IA12-8-6 | 8.5" x 11" - 6 Pages | $5.99 | $5.39 | Out of stock, special order | |
| IA12-A3 | A3 (11.7" × 16.5") | $25.00 | $22.50 | Out of stock, special order | |
| IA12-A4 | A4 (8.3" × 11.7") | $13.00 | $11.70 | Out of stock, special order | |