Storage & Mailing Tubes
The 24" Aluminum Drafting Tube is perfect for transporting architectural or engineering plans and drawings in planes, trains, and automobiles. This sturdy, rigid extruded aluminum tube protects its contents from wrinkling, tears, or other damage. The tube features an adjustable carrying strap, as well as a screw-on cap with an insert for content identification.
---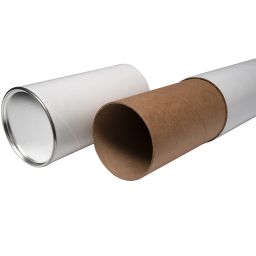 These durable telescopic tubes are made of strong jute fiber stock with tight slip-caps and reinforced metal tube ends.
---
These black, water-resistant plastic tubes protect materials from bending and creasing. They are lightproof and safeguard against fading from exposure to sunlight. They are 3" in diameter and are telescope from 28" to 49" with multiple locking positions. They include a shoulder strap.
---
This sturdy black plastic storage tube is ideal for protecting and transporting of documents, artwork, prints and posters. It features a replaceable identification pad (not recommended as a mailing label) which enables you to record the tubes contents under a clear plastic cover. The tube expands from 26" to approximately 44" in 24 locking 3/4" increments. The tube measures 4-1/4" in diameter, and includes an adjustable shoulder strap with a 52" maximum extension.
---
Transport your artwork or documents in style! Made of transparent PVC and measuring 2-3/4" in diameter, these tubes feature an adjustable nylon strap for easy carrying. The removable caps fit securely on the tube to keep artwork and documents safe. Available in three lengths and stylish colors.
---